Standardised Development of Smart Home Appliances in Guangdong Province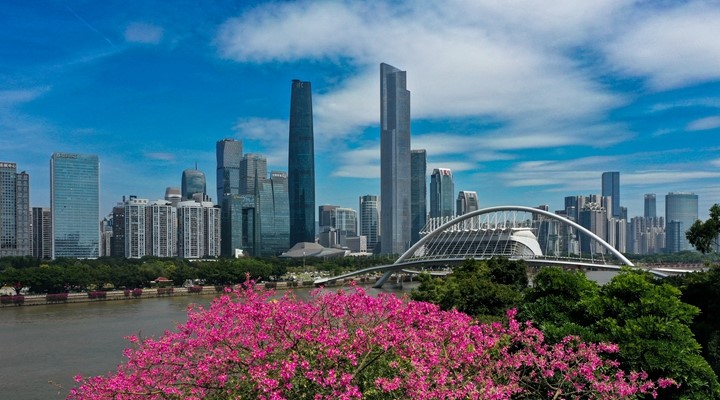 Photo Source: https://www.cnbayarea.org.cn/
Source: Guangdong Administration for Market Regulation (Guangdong Intellectual Property Administration) 
Summary
On 10 Apr 2023, the Guangdong Administration for Market Regulation, Department of Industry and Information Technology of Guangdong Province and Guangdong Federation of Industry and Commerce jointly published the Notice on Issuance of "3-Year Action Plan on Standardised Development of Smart Home Appliances in Guangdong Province (2023-2025)" (hereafter "Action Plan").
The Action Plan is set to propel the industry forward with 23 measures across 5 directions. These measures include completing an advanced standard system, promoting effective implementation, deepening intellectual property and standard integration, leading green development, and enhancing internationalisation of Guangdong standards.
Objectives
By 2025, the advanced standard system for smart home appliances will be established, with quality infrastructure improved, and international competitiveness enhanced. The implementation of industrial standards will significantly increase with more than 100 national, industry, and local standards added or revised, and over 1,500 group and enterprise standards developed. An international level of standards will be reached with more international cooperation and development of an international standard technical innovation platform. The openness of the developing industrial standards will be significantly improved, with participation in the development of over 100 international and advanced foreign standards, over 30 "Bay Area Standards," and the introduction and operation of more than five international professional standards organisations.
Major Tasks
Establish an advanced standard system
The "Standardisation and Smart Home Appliances" initiative aims to enhance the development of the smart home appliance industry by promoting standardisation, innovation, and competitiveness. It includes seven points, which encompass the development of a standard system, research on fundamental and general standards, industry-university-research collaboration, accelerating standard interoperability, information security standards, smart home appliance group standard development, and improving standardisation services for the real economy. The initiative aims to establish an advanced and sound standard system, develop industry chain clusters, and promote collaborative innovation among upstream-downstream enterprises to improve the safety and security capabilities of key links, areas, and products in the smart home appliance industry.
Promote effective implementation of standards
This initiative focuses on strengthening quality and safety supervision, exploring quality grading for smart home appliances, and improving inspection and testing standardisation capabilities. The initiative aims to increase efforts to clear and rectify "three-no" products, ensure compliance with national mandatory standards, and strengthen supervision and inspection of high-end smart home appliance products. The initiative also aims to develop quality grading standards that reflect core quality indicators such as intelligent functions and consumer experience, and establish a quality grading recognition and supervision mechanism to promote high-quality and affordable consumption. Additionally, the initiative seeks to improve inspection and testing standardisation capabilities by promoting the development of high-level national and provincial quality standard laboratories in the smart home appliance industry, incorporating advanced inspection and testing methods, and supporting local inspection and testing certification institutions in obtaining overseas certification qualifications and participating in international cooperation and recognition.
Deepen the integration of intellectual property and standards
This initiative seeks to establish a collaborative mechanism involving government departments, standard service institutions, intellectual property service institutions, and innovative entities to develop intellectual property and standards. The initiative also aims to develop a necessary patent (SEP) database, formulate guidelines for standard essential patent licensing negotiations, and improve patent navigation quality. Additionally, the initiative seeks to promote the standardisation of technological research results in various fields, such as scenario intelligence, voice control, whole-house intelligence, and green and low-carbon technologies. The initiative also explores the integration of patents and standards in the smart home appliance field and seeks to promote the industrialisation and marketisation of independent patent technologies through standardisation approaches.
Lead the green transformation of the smart home appliance industry
This section shed lights on the standardisation of carbon peaking and carbon neutrality in the smart home appliance industry. The initiative seeks to improve general standards for carbon peaking and carbon neutrality, energy consumption limits for key industries, energy efficiency grading standards, and supporting standards for energy accounting, testing, certification, evaluation, and auditing. It also aims to develop accounting standards for the carbon footprint and carbon efficiency of the smart home appliance industry's industrial chain, as well as to improve carbon emission accounting and verification, carbon efficiency accounting, carbon reduction quantification evaluation, pollution reduction and carbon control monitoring standards. The initiative also seeks to pilot projects for standardisation of carbon peaking and carbon neutrality in the smart home appliance industry by establishing green public institution construction and evaluation standards, promoting the close coordination of dual carbon standards with technological innovation and industrial transformation to support carbon peaking and carbon neutrality in the smart home appliance industry.
Enhance the internationalisation level of Guangdong standards
A series of initiatives are suggested aiming at enhancing the internationalisation of smart home appliance standards in Guangdong Province. The measures include implementing an internationalisation project for smart home appliance standards, supporting the development of international standards through technology standard innovation bases, and benchmarking the product design, manufacturing, and quality systems of international standards organisations like IEC and ISO. The province is encouraged to lead and participate in the development of international standards for smart home appliance products and core components to enhance the internationalisation level of products. The initiative also aims to explore the development of "Bay Area Standards" for smart home appliances, support the introduction of international well-known enterprises and institutions, improve international trade service capabilities, and deepen standardisation exchange and cooperation with the "Belt and Road" and other countries. A one-stop standard internationalisation public service platform will be established to promote enterprises' and institutions' active participation in international standardisation work, facilitate communication and cooperation with standards organisations and experts from various countries, and enhance their international standardisation capabilities.
Disclaimer: This document has been translated into English.  If there is any inconsistency or ambiguity between the English version and the Chinese version, the Chinese version shall prevail. The full text of the measures, in Chinese, can be found below:
http://amr.gd.gov.cn/zwgk/tzgg/content/post_4151476.html
Contact Us
Leave your details and we'll be in touch.