Hong Kong & Shenzhen: Innovation and Technology Development and Opportunities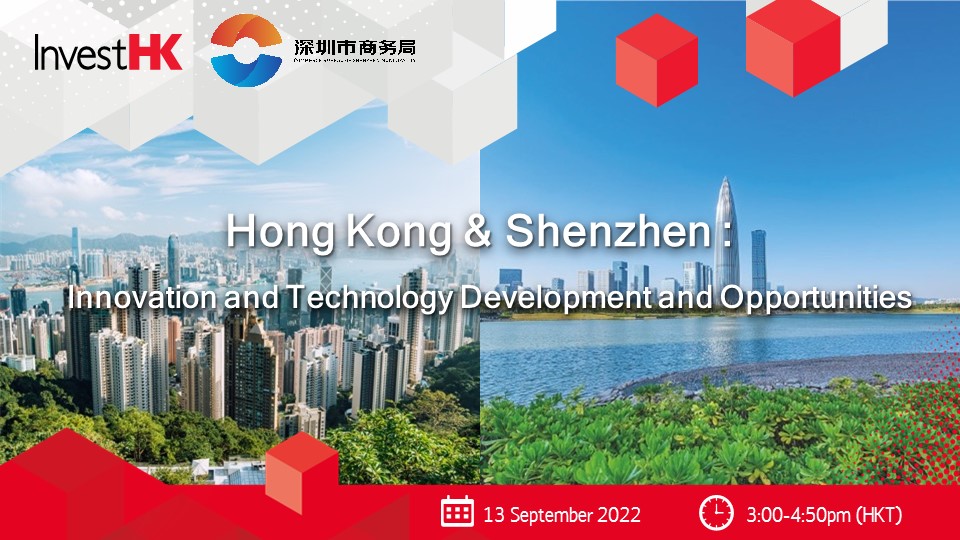 Overview
The development of the Greater Bay Area brings valuable opportunities to Hong Kong's innovation and technology (I&T) development. Co-organised by Invest Hong Kong and the Commerce Bureau of Shenzhen Municipality, this webinar aims to highlight the business opportunities in Hong Kong and Shenzhen for the I&T companies from Japan, with focus on the development of Northern Metropolis in Hong Kong, as well as the Shenzhen-Hong Kong Innovation and Technology Co-operation Zone in the Loop.
Agenda (Hong Kong time)
3:00p.m. – 3:05p.m.
Opening Remarks
Ms Winsome Au, Acting Principal Representative, Hong Kong Economic and Trade Office (Tokyo)
3:05p.m. – 3:20p.m.
"The Northern Metropolis – where business goes to grow"
Mr K. K. Ling, Director of Jockey Club Design Institute for Social Innovation of The Hong Kong Polytechnic University; the former Director of Planning of HKSAR Government
3:20p.m. – 3:40p.m.
"The blueprint and progress of the Hetao Shenzhen-Hong Kong Technology and Innovation Cooperation Zone Shenzhen Park"
Mr Changhao Tian, Chief Representative, Shenzhen Economy and Trade Representative Office in Japan
3:40p.m. – 4:10p.m.
"Hong Kong-Shenzhen Innovation & Technology Park - Unique Positioning"
Ms Michelle Kam, Director, Hong Kong-Shenzhen Innovation & Technology Park
"Hong Kong Science Park – Your Gateway to GBA"
Mr Sunny Chau, Assistant Director, Greater Bay Area (Commercial and Market Development), Hong Kong Science and Technology Parks Corporation  
"Government policy to develop Hong Kong as International Innovation and Technology hub"
Mr Bryan Peng, Head of Innovation & Technology (Greater Bay Area), Invest Hong Kong
4:10p.m. – 4:25p.m.
"Ushio's challenge of becoming 'a light solutions company' illuminating the future from Hong Kong"
Mr Keiichiro Konaka, Managing Director, Ushio Hong Kong Ltd.
4:25p.m. – 4:45p.m.
Q&A
4:45p.m. – 4:50p.m.
Closing Remarks
Mr David Wong, Head of Greater Bay Area Business Development, Invest Hong Kong
Organisers:
•    Invest Hong Kong 
•    Commerce Bureau of Shenzhen Municipality
Supporting Organisations:
•    The Japan External Trade Organization (JETRO), Hong Kong 
•    The Hong Kong Japanese Chamber of Commerce & Industry 
•    Hong Kong Economic and Trade Office (Tokyo)
Event Details
Time:
Hong Kong (GMT +8) 3:00p.m. – 4:50p.m. (JST 4:00p.m. – 5:50p.m. )