InvestHK ASEAN Webinar - Practical Tips and Experience Sharing for Setting up in the Greater Bay Area via Hong Kong for the Lifestyle and Creative Industries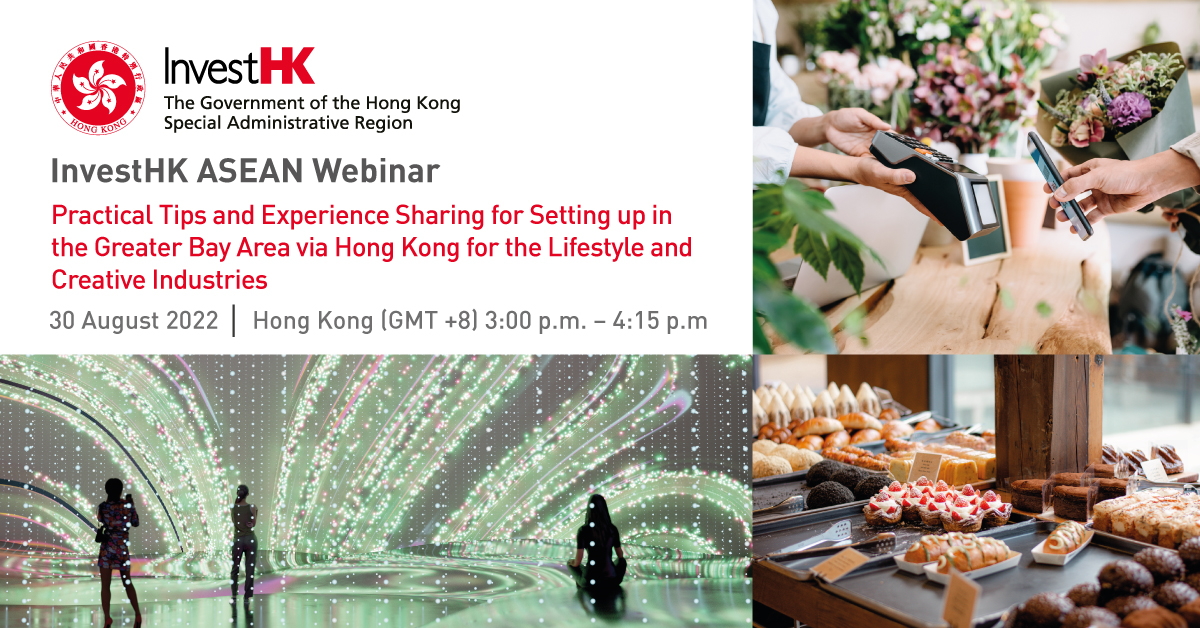 Overview
The Association of Southeast Asian Nations (ASEAN) is one of Hong Kong's most important trading partner and became the second-largest trading partner in 2020. Hong Kong is also an important entrepot for merchandise trade between ASEAN and Mainland China. In recent years, the Guangdong-Hong Kong-Macao Greater Bay Area (GBA) has become a huge market to global business - a market with 86 million population and robust economic growth. There are many advantages Hong Kong is able to offer to entrepreneurs in ASEAN to leverage on Hong Kong to further expand into the GBA.
  
This event allows you to interact with veterans and experts in the lifestyle and creative industries, who will also share with you their insights and practical experience of development in the GBA.
Agenda 
Introduction 
- David Wong, Head of Greater Bay Area Business Development, InvestHK

Fireside Chats:
Redefining Marketing in GBA
- Greg Crandall, Senior Vice President, Pico
- Doris Fong, Head of Creative Industries, InvestHK

How Fine Patisserie Brand, Paul Lafayet Uses Hong Kong as Platform to Expand Its Network in GBA 
- Toni Younes, Founder and CEO, Paul Lafayet
- Sindy Wong, Head of Tourism and Hospitality, InvestHK

Cross-Border Business Solutions - Access GBA Consumers from a Base in Hong Kong
- Jasmine Tsang, Managing Partner, CruiSo
- Helen Zhou, President, Ksher
- Angelica Leung, Head of Consumer Products, InvestHK

Setting Up in GBA via Hong Kong
- David Wong, Head of Greater Bay Area Business Development, InvestHK
Event Details
Time:
Hong Kong (GMT +8) 3:00 p.m. – 4:15 p.m.