Webinar: "Opportunities for Japanese Businesses in Hong Kong and the Greater Bay Area"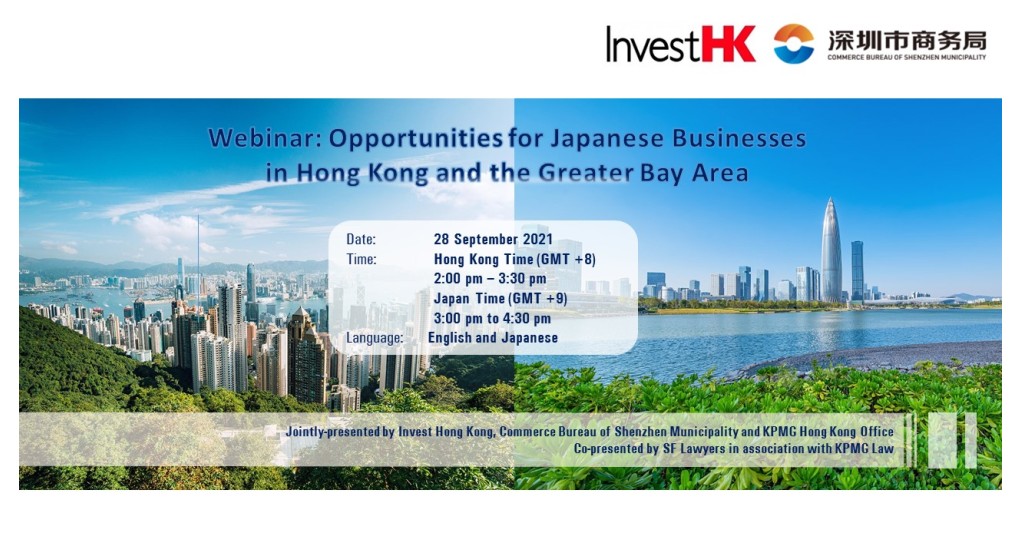 Overview
The Guangdong - Hong Kong - Macao Greater Bay Area (GBA) comprises the two Special Administrative Regions of Hong Kong and Macao, and the nine municipalities of Guangzhou, Shenzhen, Zhuhai, Foshan, Huizhou, Dongguan, Zhongshan, Jiangmen and Zhaoqing in Guangdong Province. The total area is around 56 000 km2. Hong Kong is presented with opportunities arising from GBA development, which provides a sizable market of 86 million consumers and a GDP of USD 1,679.5 billion.
Join us for a discussion to explore business opportunities in the GBA, how to tap into this flourishing market via Hong Kong and Shenzhen, and the tax and legal issues.
Agenda
• The strategic role of Hong Kong in tapping into the Greater Bay Area opportunities
• How to tap into / enter the Mainland market via Hong Kong and Shenzhen, and tax / legal issues
• Sharing of success stories
Speakers
•    Mr. Tian Changhao, Chief Representative, Shenzhen Economy and Trade Representative Office in Japan, Commerce Bureau of Shenzhen Municipality
•    Ms. Vivian Chen, Tax Partner, KPMG Shenzhen
•    Ms Alice Leung, Tax Partner, KPMG Hong Kong 
•    Ms. Shirley Fu, Partner, SF Lawyers in association with KPMG Law
•    Mr. David Wong, Head of GBA Business Development, Invest Hong Kong
•    Ms. Kiyoko Hashiba, Head of Investment Promotion, Tokyo Office, Invest Hong Kong
For any enquiries, please contact gba@investhk.gov.hk.
Programme (HK Time)
14:00 – 14:05        
Opening Remarks 
- Dr Jimmy Chiang, Associate Director-General (Business Development), Invest Hong Kong
14:05 – 14:20    
Presentation 
Hong Kong - The Ideal Gateway to the GBA Region 
- Mr David Wong, Head of Greater Bay Area Business Development, Invest Hong Kong
14:20 – 14:35    
Keynote Presentation 
Investment Opportunities and Business Environment in Shenzhen
- Mr Tian Changhao, Chief Representative, Shenzhen Economy and Trade Representative Office in Japan, Commerce Bureau of Shenzhen Municipality
14:35 – 15:05    
Keynote Presentation 
Hong Kong as a Gateway to GBA Market from Tax and Legal Perspectives
- Ms Vivian Chen, Tax Partner, KPMG Shenzhen
- Ms Alice Leung, Tax Partner, Hong Kong, KPMG China
- Ms Shirley Fu, Partner, SF Lawyers in association with KPMG Law
15:05 – 15:20
Sharing of Successful Cases of Overseas Companies on Entering GBA Region via Hong Kong
- Mr David Wong, Head of Greater Bay Area Business Development, Invest Hong Kong
- Ms Kiyoko Hashiba, Head of Investment Promotion, Tokyo Office, Invest Hong Kong
15:20 – 15:30
Q&A
Event Details
Time:
Hong Kong Time (GMT+8) 2:00pm - 3:30pm Japan Time (GMT+9) 3:00pm - 4:30pm