RMB113 Millions of Goods Handled in first 100 days of operation of the Dongguan-Hong Kong International Airport Logistics Park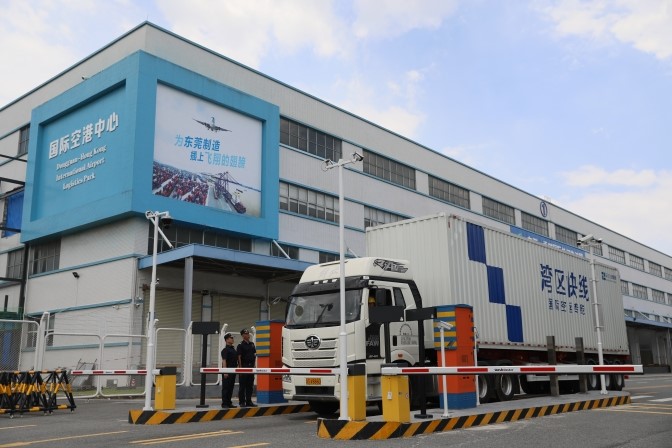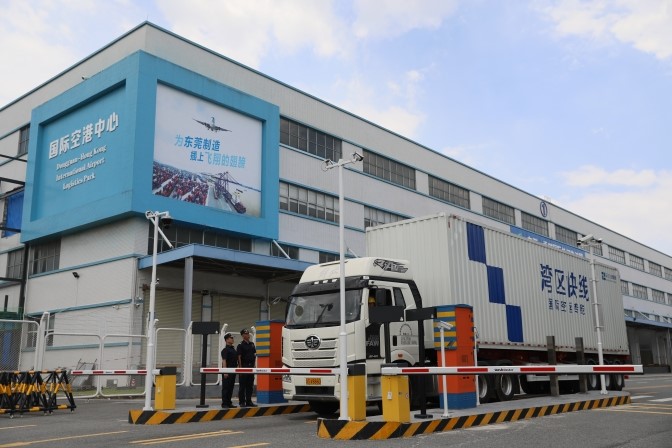 Source: Guangzhou Daily – Guangzhou Converged Media Centre (广州日报·新花城)
The Dongguan-Hong Kong International Airport Logistics Park (hereafter "Logistics Park") handled the shipment of goods worth more than Renminbi 113 million in its first 100 days of operation as of 27 July 2023. Under the pioneering "sea-air intermodal cargo transhipment" mode, the Logistics Park has promoted complementarity between the industries in Guangdong and Hong Kong and resource sharing between the two places and further enhanced the level of cooperation in the Guangdong-Hong Kong-Macao Greater Bay Area (GBA). This is one of the notable cases of the convergence of rules and mechanisms in the GBA.
In the afternoon on 27 July 2023, a batch of export goods including canvas and electric toothbrushes went through customs clearance procedures and air transport security screenings at the Logistics Park and was shipped by sea in dedicated vessels to the airside of Hong Kong International Airport (HKIA) for direct air transhipment to South Asia. The advanced manufacturing industries are well-developed in Dongguan, and high-value electrical and mechanical products account for nearly 50% of the import and export value of the city. There is a huge demand for air freight logistics, and the import and export of goods are highly dependent on the HKIA for transit.
According to Xie Huixuan, an official of the Huangpu Customs, based on their research, 43 out of the top 50 Dongguan enterprises ranked by import and export value have air transportation needs, and 80% of their goods were exported via land transportation to the HKIA for overseas transhipment.
In the past, export goods from the Mainland had to go through customs clearance locally, and then transported by road through the Shenzhen Port to the cargo terminal of the HKIA. After security screening, the goods were loaded into the aircraft cargo warehouse and then flown abroad. Under the new intermodal model, the Logistics Park extends the relevant functions and services of the HKIA to the front line of Dongguan and enables high-value-added goods from the Mainland to reach 220 countries and regions around the world directly as if the terminal of the HKIA is located in Dongguan.
"Now the customs clearance of goods exported through the Logistics Park is very efficient. It takes less than a day to complete the whole process from loading the goods to completing all customs declarations and inspections and transporting them to the HKIA. The overall cost including the cost of customs clearance has been reduced by 30%." said Liu Lang, customs manager of Dongguan Zhongjun Trading Co., Ltd.
"Exported goods from the Mainland can go through customs clearance and security inspection in a "one-stop" manner in Dongguan, and then be directly shipped by sea to the HKIA for transhipment. This greatly improves the traffic efficiency and effectively enhances the international logistics capacity of the GBA." Xie Huixuan explained.
Disclaimer: This article has been translated into English. The full text of the article published by Guangzhou Daily – Guangzhou Converged Media Centre (广州日报·新花城), in Chinese, can be found below. If there is any inconsistency or ambiguity between the translated version and the Chinese version, the Chinese version shall prevail. 
https://huacheng.gz-cmc.com/pages/2023/07/30/5d2463d5721642b4b1c0c1f41bc371ec.html