Successful conclusion of the Shenzhen International Financial Technology Competition - Xiangmihu Fintech Innovation and Entrepreneurship Competition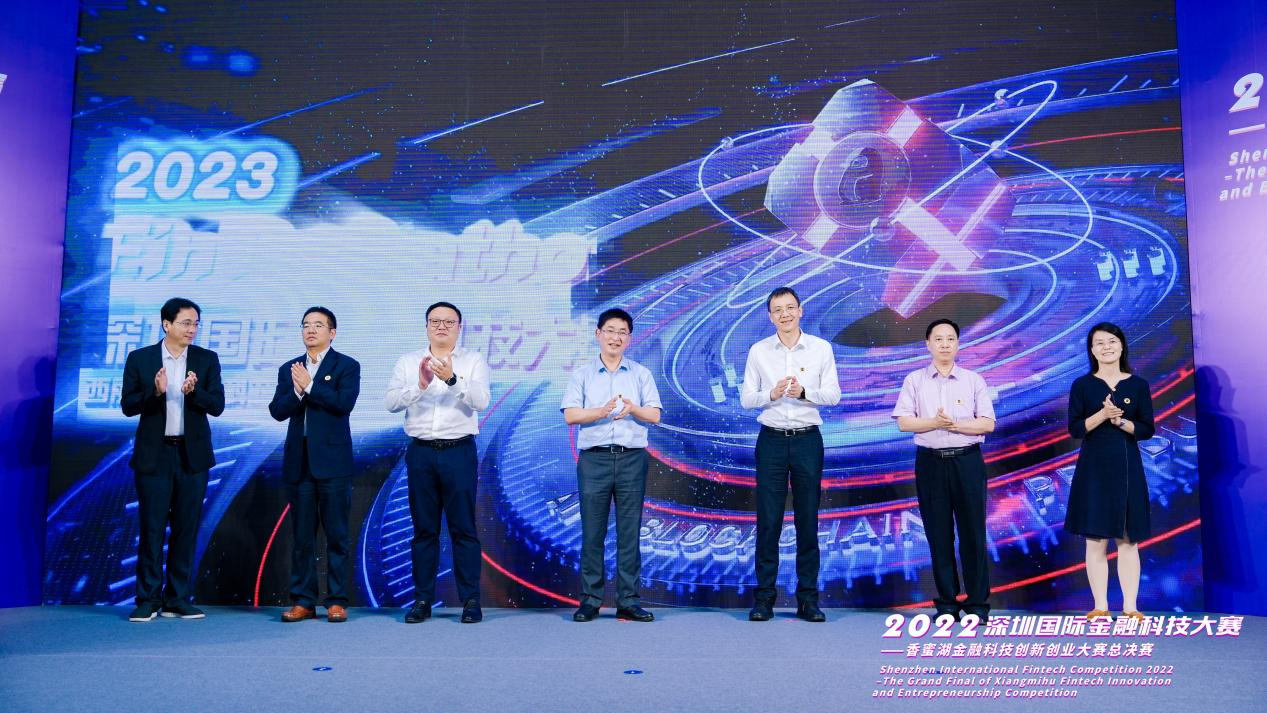 Image source: https://mp.weixin.qq.com/s/wkY68ZLpqBHSnx9J_Hjd_Q
The Shenzhen International Financial Technology Competition - Xiangmihu Fintech Innovation and Entrepreneurship Competition came to a successful conclusion. 
On 13 July, the final competition of Xiangmihu Fintech Innovation and Entrepreneurship Competition, under the guidance of the Shenzhen Local Financial Supervision and Administration Bureau, the People's Government of Futian District and the People's Government of Nanshan District of Shenzhen, and hosted by China Merchants Group Financial Technology Co., Ltd., was successfully concluded at the East Sea Langham Hotel, Futian District. He Jie, Director of the Shenzhen Municipal Local Financial Regulatory Bureau, Zhu Jiang, Deputy District Head of the People's Government of Futian District, and relevant leaders of Shenzhen Banking and Insurance Regulatory Bureau, Shenzhen Securities Regulatory Bureau, Nanshan District Financial Development Service Centre and other units attended the event and presented awards to the award-winning enterprises. Representatives of leading enterprises, investment and financing institutions, and media representatives from the financial technology field gathered together to witness this important moment.
Extract from Director He Jie's speech
For a long time, Shenzhen has given full play to the advantages of "technology + finance" dual wheel drive and joining hands to promote fintech to form a significant advantage in leading the Asia Pacific region. In the latest Global Financial Centres Index (GFCI), Shenzhen Fintech ranked fourth in the world, just behind New York, San Francisco and London. This year, Shenzhen was the first Mainland city to hold "Financial Technology Festival" event in China, covering "One Summit, One Exhibition, Two Competitions" and several forums, which has received great market response and gained increasing influence. The Xiangmihu Innovation and Entrepreneurship Competition is one of the important events of the Financial Technology Festival, injecting new impetus and vitality into the development of Shenzhen's financial technology. Building a global fintech centre requires a continuous stream of fintech enterprises and fintech talents, which are indispensable for creativity, innovation, entrepreneurship, and creation. Looking forward to the future, Shenzhen will continue to anchor the strategic goals of the global financial technology centre and will build a full innovative ecosystem of "technology research, development, scenario application, achievement transformation, talent support and standard construction", and create a "new engine" that empowers the real economy and promotes high-quality development through finance. 
Based in Shenzhen and facing the world
As an important component of the "1+1+1+N" activity framework of the Shenzhen Financial Technology Festival, Xiangmihu Innovation and Entrepreneurship Competition adheres to the concept of "based in Shenzhen and facing the world", and links with domestic and foreign government agencies, associations, research institutions, venture capital institutions and other resource channels. Through mentorship, industry stakeholder matchings and exchange meetings, and the dedicated CEO acceleration camp, Xiangmihu Innovation and Entrepreneurship Competition engages actively with the competing fintech enterprises and builds an industry exchange platform for them. Since its launch in December 2022, the competition has extensively solicited cutting-edge projects for global financial technology innovation and entrepreneurship enterprises, attracting a total of 103 domestic and foreign financial technology enterprises from Germany, Singapore, Hong Kong and Macau and Mainland China to participate, with 3 participating enterprises planning to settle in Shenzhen, and ultimately helped Shenzhen to become a global financial technology centre.
Showcasing new achievements in the development of financial technology after rounds of selection 
At the finals, the organizing committee invited seven guest judges from China Merchants Financial Technology Co., Ltd., Huawei Technology Co., Ltd., Hong Kong Cyberport, Hong Kong Digital Finance Association, Shenzhen Innovation Investment Group Co., Ltd., Shenzhen Angel Fund of Fund, Shenzhen Zhengxuan Investment and other institutions, to review 12 roadshow projects that have advanced to the finals. After intense competition, a total of 6 final winning projects were born. It is reported that the award-winning enterprises focus on sub-sectors such as ultrasonic chips, real-time graph database system, AI decision-making intelligence, digital intelligent risk control platform of property insurance companies, and digital transformation of financial institutions through scientific and technological innovation.
Creating a new brand for financial technology competitions around two famous lakes in Shenzhen 
In order to accelerate the construction of a financial technology centre city with international influence, Shenzhen stays closely connected with the emerging trends of financial institutions, financial technology enterprises, and the development of the financial technology industry. On the basis of fully considering the development goals and positioning of Shenzhen's "Xilihu International Science and Education City" and "Xiangmihu New Financial Centre", two competitions named after the two famous lakes in Shenzhen were set up - the "Xilihu Financial Technology Undergraduate Challenge" and the "Xiangmihu Fintech Innovation and Entrepreneurship Competition", respectively targeting college student teams and innovative enterprises in the field of financial technology. The Xilihu Financial Technology Undergraduate Challenge" will soon be held to gather high-quality innovation and entrepreneurship resources, and to provide a platform for undergraduate students in Shenzhen to showcase their fintech innovations. 
This document is an excerpt of an article published by Shenzhen Municipal Local Financial Regulatory Bureau and has been translated into English. If there is any inconsistency or ambiguity between the English version and Chinese version, the latter one shall prevail. The full text of the article, in Chinese, can be found below:
https://mp.weixin.qq.com/s/wkY68ZLpqBHSnx9J_Hjd_Q