Guangzhou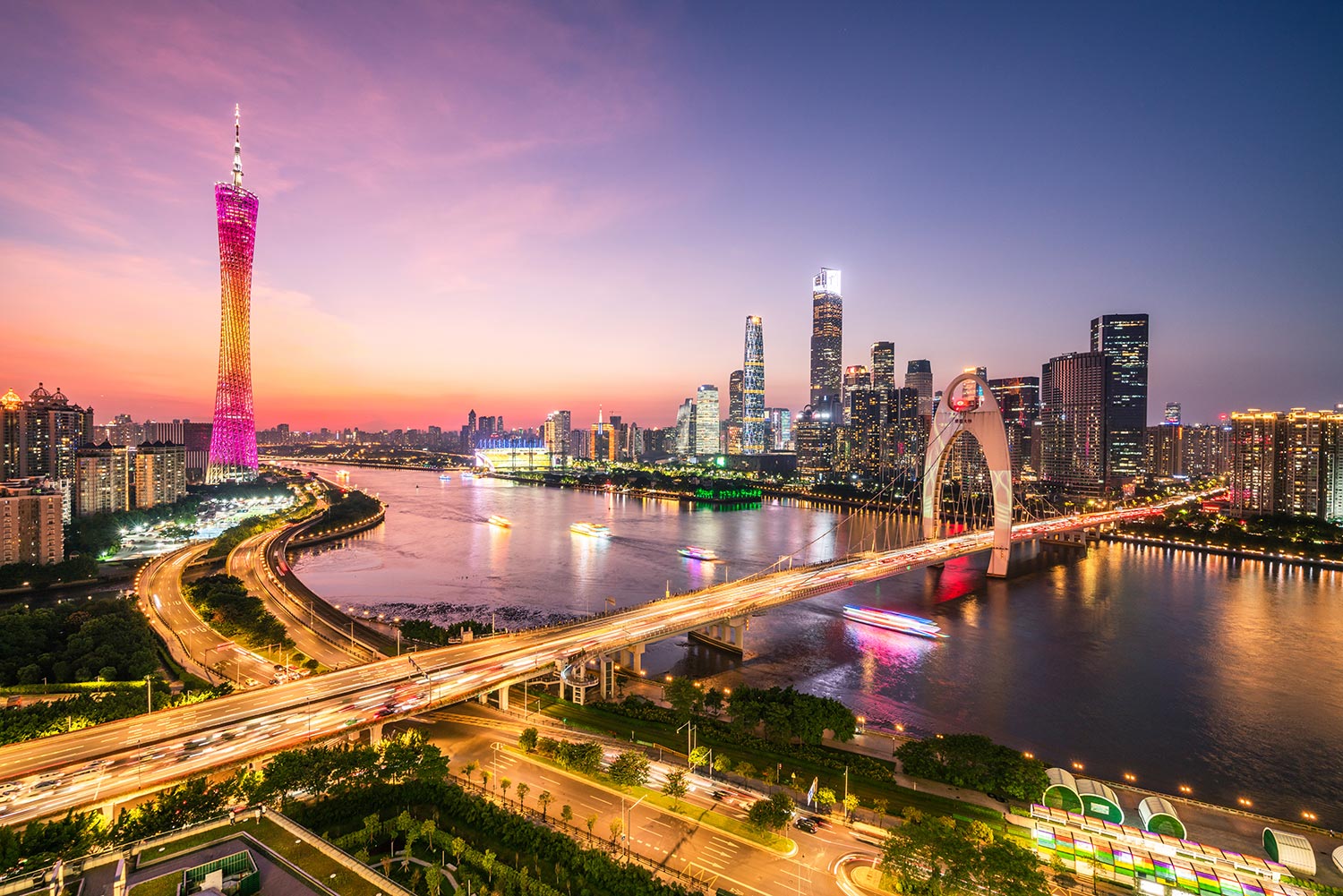 Guangzhou is the capital of Guangdong Province, located at south-central part of Guangdong Province.
Guangzhou focuses on advanced manufacturing industries with three pillar industries, namely automobiles, electronics and petrochemical industry as the engine of Guangzhou's development. They are supported by six cutting-edge production bases for automobiles, ship and marine engineering equipment, nuclear power equipment, computer numerical control equipment, petrochemicals and fine steel manufacturing. There are also more than 50 industrial areas and parks, focusing on automobiles, petrochemicals and electronics in the east, port-related equipment manufacturing in the south, and airport-based economy in the north.
Guangzhou is a Pearl River port. It also has a good harbour for ocean freight. Besides, it is a railway junction and hub of civil aviation in southern China.
Guangzhou South Railway Station is a comprehensive transport hub serving Southern Guangdong. The station is designed to cater for about 100 million passenger trips. There are five high-speed railways (Wuhan–Guangzhou High-speed Railway, Guangzhou–Shenzhen–Hong Kong Express Rail Link, Guiyang–Guangzhou High-speed Railway, Nanning–Guangzhou High-speed Railway and Guangzhou–Zhuhai Intercity Railway) and two metro lines. Guangzhou–Foshan Circular and Foshan–Dongguan Intercity Railways are under construction.
Major Development Areas
National level: Guangzhou Economic and Technological Development Zone, Nansha Economic and Technological Development Zone, Zengcheng Economic and Technological Development Zone, Guangzhou Hi-tech Industrial Development Zone, Guangzhou Baiyun Airport Comprehensive Bonded Zone, Guangzhou Free Trade Zone, Guangzhou Export Processing Zone, Guangzhou Bonded Logistics Park, and Guangzhou Nansha Bonded Port Area
Provincial level: Baiyun Industrial Park, Yunpu Industrial Park, Huadu Economic Development Zone, and Conghua Economic Development Zone
China (Guangdong) Pilot Free Trade Zone—Nansha Area of Guangzhou was formally approved by the State Council in December 2014. The planned area is about 803 square kilometres. Nansha focuses on promoting Guangdong-Hong Kong in-depth cooperation and establishing technology and innovation transfer platform between the two places, supported by policies and measures for Hong Kong people and enterprises, for example, preferential policies to attract Hong Kong professionals to work in Nansha. Preferential policies for Hong Kong people and enterprises include the implementation of cross-border Renminbi (RMB) lending in Nansha; the designation of Nansha as a pilot area for Hong Kong and Guangdong law firms operating in the form of partnership association; and the provision of rewards by Nansha based on the tax differentials between the Mainland, the HKSAR and the Macao SAR for Hong Kong and Macao talents with an annual taxable income of over RMB300, 000.
The Central Government promulgated on 14 June 2022 the Overall Plan for Deepening Globally Oriented Comprehensive Co-operation amongst Guangdong, Hong Kong and Macao in Nansha of Guangzhou (Nansha Plan). The Nansha Plan sets out five key development directions for Nansha, namely industry co-operation in innovation and technology, co-operation in youth innovation and entrepreneurship, high-standard opening up, regulatory interface and connectivity, and high-quality urban development. These directions correspond to policy areas which Hong Kong enjoys comparative advantages in and is determined to develop further.
As of September 2021, the number of Hong Kong-invested enterprises registered in Nansha reached 2 747 in total, and the cumulative investment amounted to US$113.727 billion.
Contact Us
Leave your details and we'll be in touch.